Below, you will find most information about my school and teacher programs. A day in a school depends on your needs, but usually consists of three full presentations plus book signing. My presentations run about 45-50 minutes including questions and answers and I like to start early in the day when students are fresh. I speak to all ages and offer different presentations for different age groups. Group sizes of up to 250 are no problem, so I can usually cover an entire elementary or middle school in a day. I have also increasingly been giving after-school teacher workshops. See a sample description below.
FEES AND EXPENSES
The Fees and Expenses: $1200 a day plus expenses for 3 presentations and $1600 a day plus expenses for 4 presentations. Also $1600 a day plus expenses for flying to a location for a single day.
"Significant discounts are available for Montana schools or schools that I easily can drive to."
Don't hesitate to call to get a precise quote: (406)721-2783.
or by email at collard@bigsky.net
Please DO NOT give this information to students for any reason.
Fan mail and other letters should be sent to:
Bucking Horse Books, P.O. Box 8507, Missoula, MT, 59807.
DESCRIPTIONS OF SCHOOL PRESENTATIONS 2015-16
"Rep-Tales"
This talk is mostly for younger kids, Grades K-2. Its purpose is to have FUN while reinforcing basic concepts about reptiles. After reviewing the five basic groups of reptiles, I discuss three of them using my books and particularly gruesome and exciting experiences I've had. Specific topics include snakes, geckos, and tuataras. Myths will be shattered, hearts will be pumped, and stomachs churned!
"Writing in the Clouds: A Visit to a Tropical Cloud Forest"
This talk explores where writing ideas come from. Like all my presentations, this one is highly interactive, inducing kids to think for themselves and view themselves as writers. After brainstorming on writing ideas, I take kids on a visit to Costa Rica's Monteverde Cloud Forest. Kids learn about cloud forest ecology and afterward, come up with their own ideas for writing books and stories. The talk closes by reinforcing the value in observation and appreciation of our earth, whether in Costa Rica or the local school yard. Grades 2-5.
"Research at the Bottom of the Sea"
This presentation shares with children the influences that have shaped me as a writer and then focuses on how I do the research for my books. To illustrate the process, I take children on my recent research expedition diving in the Johnson Sea Link submarine off the Bahama Islands. In a dramatic slide presentation, I introduce kids to life far below the ocean surface, focusing on bioluminescent creatures animals that make their own light. I also contrast life on earth with ocean life while emphasizing the need to protect our marine resources. Grades 3-12.
NEW!

"Refining Writing Ideas in the Galapagos"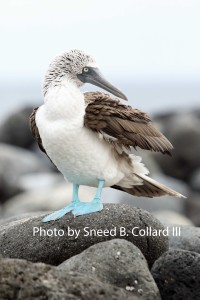 In this presentation, I demonstrate to kids how to refine and narrow down an effective writing idea, and give them practice to do so themselves by taking them on a journey to the Galapagos Islands. In the process, students will learn about some of earth's most incredible adaptations—and how Charles Darwin first began to untangle the mystery of how species are created. Grades 3-12.
"The Reality of Writing Children's Books" (Appropriate for ALL Audiences)
In this talk, I trace my development as an author from childhood to the present. I'll especially focus on how early influences shaped my later passions and interests with regard to writing nonfiction. I'll also talk about the challenges and process of becoming an established author and my transition to writing fiction. I'll especially focus on newer and popular projects such as Double Eagle, my Slate Stevens mysteries and Fire Birds—Valuing Natural Wildfires and Burned Forests.
One-Hour Writing Workshops
In the past several years, I've been offering very effective one-hour writing workshops to motivated students grades 4 & up. These focus on the writing tools I use that deliver the most bang for the buck in delivering top-quality writing.
Teacher Workshop: "Pillars of Great Nonfiction Writing"
In this highly-praised session, I draw from a variety of children's and adult books and authors to focus on the power of story, simplicity, voice, humor, and research to turn average writing into unforgettable literature. Along the way, I'll offer practical exercises and suggestions for helping your students begin utilizing these concepts. Highly applicable to teaching Common Core and other state standards!
Teacher Workshop: "Essentials of Nonfiction Revision"
In this session, I share my thirty years of writing experience to discuss key principles in teaching nonfiction revision. This 1.5- to 3-hour workshop focuses on revising the paragraph—perhaps the most fundamental writing unit, and the one most accessible to teachers and students.